Polandball/countryball. IDU style!
Polandball!?
Polandball (aka countryball). Ever heard of it? Apparently, several members of the IDU (myself included) have. It is a funny little comic style that depicts nations (drawn up as little balls consisting of their flag and eyes) interacting with one and other. The comic style is actually very popular because it is highly accessible to amateurs, all you need is an mspaint style application that is younger than 1980 and you are probably capable of drawing a polandball comic. Want examples? Google r/polandball and it will take you to a Reddit community full of them.
Cool...but why this thread?
I thought to myself, why couldn't we do that but with our nations? I don't see a reason why we shouldn't. So... let's do it! The rest of this thread will be dedicated to "IDUball" comics or illustrations.
Guidelines
Thankfully, there are only a couple of limits to what you can do in IDUball as there are no prizes or anything like that involved your main objective is to have a good laugh. With that said, there are some general established guidelines that will make this thread better.
1. Since interactions between nations are intended to be funny, you will be poking fun of people's nations in interactions. With that said, don't be brutal. A nation -Conternia- that loves to annex people might be fun to poke fun off with a "Conternia walks into a room and everyone leaves screaming 'Don't annex us!!!'" comic is fine but don't attack them. The take away from the comic shouldn't be "wow, nation ______ is literally the dumbest person and deserves to die." That usually isn't funny anyway.
2. Don't use circle tools! They look professional. That isn't the aim.
3. Give your polandballs only eyes, no mouth or nose or legs etc. Eyes should be white with nothing in them and should have a thin black outline
4. Represent the nation truthfully. Kerlile wouldn't be depicted as supporting men's rights (pre-May 2019, now idk) and Bjeorg wouldn't be advocating for atheism.
5. The character shouldn't represent an individual person in that nation. It should represent the stereotypes of the nation (Nation X are a bunch hillbillies with plasma guns who only care about their turtle farms, in example).
6. The character's body should be a circular rendition of the nation's flag + the eyes and nothing else. If they need a "prop" for a particular scene (top hat to show culture or AK-47 to show that it's a junta) that is fine.
7. Only nations of the IDU can exist in the comic, no industries or geopolitical entities. The IDUSA (represented by its flag) is probably fine however.
8. Nation's with emblems located to either side of the flag can turn that into an eye patch. Like Serbia! Libertas Omnium Maximusball also lost its eye.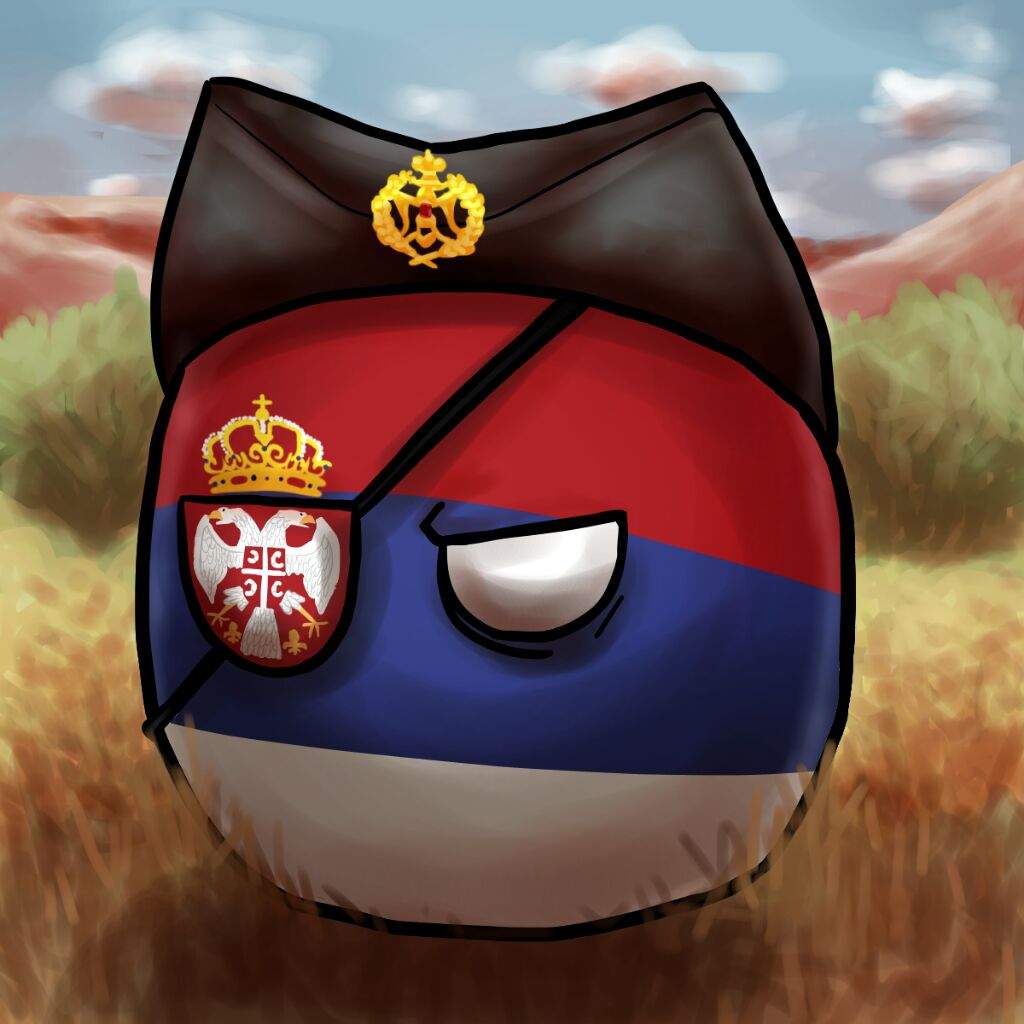 Don't even attempt this quality of drawing though. Whoever did this was a grandmaster! Made by: User 27hagelslag on
https://aminoapps.com/c/polandball/page ... goQ38xdoqd
9. Backdrops are accepted but not required.
10. Unless otherwise specified by the user of the nation in question, all characters are genderless. If a user specifies their character's gender, use that.
11. Characters speak Engrish, imperfect English meant to represent their accent. "Dis Mercia ist stupikof!" Instead of "America is stupid" for a Germanic nation in example. It just has to be English enough to get across the general point. The exception to this rule is for nations that speak the Queen's English. They talk normally.
12. Any level of quality is fine. This isn't the Uffizi gallery.
These guidelines are derived mostly from the Reddit community r/polandball. They are to thank for my love of polandball actualy. Before you start making comics I would highly recommend taking a look at
https://www.reddit.com/r/polandball/
I would advise starting out with a picture of your polandball along with some of their likes and dislikes and personality traits.
Eg.
Bjeorgball
"Deus Vult!"
Likes
-Yellow
-Seeing LOMball in pain
-Cathedrals
Dislikes
-LOMball
-People pointing out his inferiority complex
-Atheists
See Also
-LOMball (brother)